Sample Itinerary "BEST OF INDONESIA Saumlaki-Sorong 23 Days-21 Nights"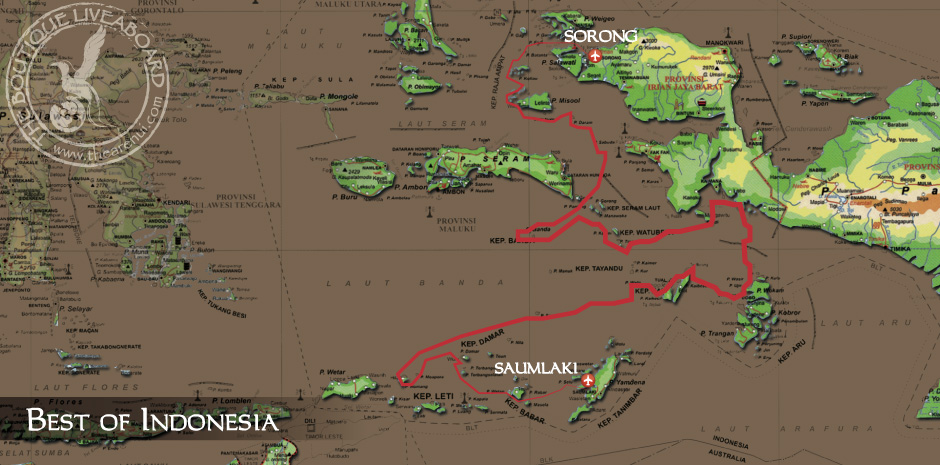 BEST OF INDONESIA
23 Days/22 Nights Saumlaki – Sorong Cruise Itinerary
Day 1 Embarkation in Saumlaki
The Forgotten Islands are part of a remote archipelago in the southeast corner of the Moluccas (Maluku Tenggara). Despite the remote feeling in other parts of Indonesia (such as Alor or Banda), the Forgotten Islands are isolated even by Indonesian standards, covering a 1,000 km long chain of islands staring at Timor and extending up to West Papua. The Tanimbar group of around 65 islands that separate the Banda Sea from the Arafura Sea include the island of Yamdena where the capital Saumlaki is where this cruise begins.
There are many groups of islands in this area and the Forgotten Islands are relatively undiscovered and still being explored. The exact itinerary around these islands will depend exclusively on the weather and current conditions. Also due to the big distances between island groups some of the days will include three day dives before heading off in the afternoon and travelling overnight. When the next location is closer and there are anchorage spots in sheltered bays we will offer a fourth dive, usually a night dive.
Dive sites in the Forgotten Islands are characterised by endless reefs and spectacular deep walls covered in soft corals, sea fans and huge sponges. These islands usually experience amazing visibility and warm water around 27-30C (81-86F). Here are the names of the islands we may visit (weather permitting) during your cruise:
Days 2-4 Serua/Teun/Nila/Nil Desperandum
Teun, Nila and Serua, often referred to as TNS, are all small, very remote volcanic islands only accessible by liveaboard, located just east of Damar. You will feel as if you have reached the ends of the earth and that may be why there is a growing interest in diving in this zone. Although the sites here remain relatively unexplored, experiences so far have revealed tremendous diving potential and splendid coral reefs.
Close to the small island of Nila are two atolls Dusborgh and Nil Desperandum. Weather permitting, we will spend two days in this area, making a small bay on the east side of the island of Nila our base. There is also a night dive opportunity here.
Nila/Dusborgh (4-5 dives)
Dusborgh is a submerged atoll with a surrounding reef that reaches all the way up to the surface. The reef then slopes steeply to deep walls. As with all of the Forgotten Islands the walls are covered in huge sponges and sea fans. With the amazing visibility keep an eye into the deep for passing pelagics. A small bay on the east side of the island of Nila has a night dive opportunity.
Nil Desperandum (4-5 dives)
Nil Desperandum means "don't despair" possibly referring to a ship wrecked here centuries ago. It is a big atoll with very deep drop offs. Schooling sharks have been spotted in the deep here with a chance to see hammerhead, silky and grey reef sharks.
Days 5 Dai Island (3-4 dives)
The villagers on this island still practice traditional hunting with bow and arrow. Steep slopes provide hunting grounds for schooling barracuda and trevally. Large sea fans on the reef are surrounded by very healthy reef fish life. The shallows here are full of hard corals decorated with anthias.
Days 6 Dawera Island (6-7 dives)
This small island is in the northern part of the Babar group of islands. There is a seamount where the reef is untouched and so full of fish you won't know where to look! Along the north side of the islands there are numerous wonderful dive sites ranging from Tanjung Raja where there are stunning soft corals to Sponge Delight where there is a huge resident school of barracudas and even a chance to see hammerhead sharks. The diving in this area is so good we may even stay an extra day.
Days 7-8 Pulau Damar/Nusleur/Terbang (6 dives)
Close to the big island of Damar the small islands of Nusleur, Terbang Utara and Terbang Selatan are surrounded by pristine beaches that stretch out to coral reefs that then drop down to the most beautiful, untouched walls. From top to bottom, the reef is an explosion of different colours and forms and seems to be in constant motion from the swarms of fish darting about. You may find yourself floating in the midst of a huge school of fish as the sea creatures here appear quite curious, perhaps because they are generally not used to seeing many divers. Another unique attraction in this area is the wall of sulphur formed as a result of its proximity to the volcano on Damar. There is a possibility to visit a village on Damar where there is also a black sand night dive.
Day 9 Manuk (3 dives)
The island of Manuk is the eastern-most volcano of Indonesia and presents two very unique highlights above and below the water. Topside, it is possible to revel in the spectacle of thousands of seabirds, including comical yet beautiful frigate birds and boobies. The sight is unforgettable. One of the few phenomena able to rival that display is the vision of a dozen sea snakes undulating and swimming underwater. Some divers have even been lucky enough to watch them hunting in a pack. It is thought that the warm geothermal vents present in these waters attract these cold-blooded creatures in large numbers. In addition to these singular wonders, the island's reefs are also stunning and there is a good mix of coral-covered walls and slopes in all colours and sizes. Besides an outstanding variety of reef fish, you may also see some tuna, jacks and sharks.
Day 10-13 Kai Islands (14 dives)
Exploratory diving in one of Indonesia's unexplored dive frontiers J
Day 14-16 Triton Bay (10 dives)
We call this area Triton Bay but we don't actually dive inside Triton Bay itself! The bay is very close to the main island of West Papua and therefore has very bad visibility. Most of the dive sites are located in the strait created by the island of Aiduma and south West Papua.
Larry's  Heaven
This dive site was named by divers in memory of Larry Smith one of the pioneers of Triton Bay. It was previously named as Little Komodo by Larry. The southern part of the site is a gentle slope with big boulders. The slopes transform into a mini wall towards the east. All the boulders and the mini wall are completely covered in soft corals like you have never seen before. Look for flasher wrasse and sand divers in the sandy slope on the south west. With sweetlips and anthias decorating the reef with their marvellous colors, this site is the most popular dive in Triton Bay.
White Rocks
A perfect dive site for an afternoon or night dive depending on the current. Here you will be critter hunting along the bottom of the site. Look in the soft corals, you may find one of the most camouflaged crabs in the sea, the Candy Crab. Also, there is an opportunity to see the elegant walking shark (Epaulette shark).
Bo's Rainbow
Bo's Rainbow is a small rock on the surface but a huge area underwater waiting for divers to discover all the macro marine life and enjoy the formations of this site. All the boulders are completely covered in soft corals and the gentle slope is covered in black coral. Look for ghost pipefish and saw-blade shrimps in the black coral bushes. Up in the shallows there is a swim through that offers a perfect place for wobbegong sharks to rest during the day.
Flasher Beach
Another great dive site that Triton Bay has to offer is Flasher Beach and it's not for the beauty of the location but for the marine life. The name Flasher Beach comes from the amount of different species of flasher wrasse you can encounter on any dive. With luck you might get to see the endemic Triton Bay Flasher Wrasse (Parachieilinus nursalim).
Day 17 Mai Mai (snorkelling with whale sharks)
We will visit a small village called Mai Mai off the island of Namatote where there are fishing platforms called Bagans. The fishermen here have created an amazing relationship with the biggest fish of the ocean – the Whale Shark. We have to wait until around 8 or 9 am for the whale sharks to hopefully arrive and for the fishermen to be ready with the morning breakfast for the sharks. The giant gentle whale sharks allow us to get into the water with snorkelling gear only to enjoy the presence of these amazing wonders of the sea. This is an unforgettable experience. It takes time for the dive masters and cruise directors to arrange everything with the village and fishermen but the waiting is absolutely worth it.
Day 18 Koon Island (3 dives)
Too Many Fish
Our next stop is Koon Island, located southeast of Seram Island and over a trench that goes down to more than 3000 meters. There is only one dive site here and its distinct name of "Too Many Fish" is aptly deserved. The reason for this name becomes obvious to anyone who dives here. Large schools of all kinds of fish are seen here especially black snappers, batfish, barracuda and fusiliers. The sloping reef is full of beautiful corals interspaced with white sandy patches, going into a steep wall at around 30m/100ft. In the deep look for large groupers, sharks or even a passing eagle ray. In the shallows schools of banner fish, Oceanic triggerfish and red snappers decorate the reef. With all the fish in the usually perfect visibility you probably won't be looking at the macro residents of this reef but if you do pygmies, leaf fish, nudis and ghost pipefish have been seen here. Depending on the phase of the moon, strong currents can make this dive site very challenging but unforgettable.
Days 19-20 Misool, Raja Ampat (7-8 dives)
Misool is in the south of Raja Ampat and we will dive at the many small islands in the southeast. Over the past years Misool has become Raja Ampat best diving area, being famous for the profusion of colorful soft corals, sea fans beautifully draped all over the reefs and a huge amount of all kind of fishes on every single dive.
The islands in southeast Misool are grouped by areas. Here are the names of the areas and dive sites we may visit (weather permitting):
Misool – Boo Area
Boo Windows is the famous dive site in this area. It is best known for the "windows" or rounded openings on the end of the largest rock that completely pierce the reef from the surface down to about five meters/fifteen feet. Although the two rocks appear separate from the surface they are in fact connected underwater by a magnificent reef draped in soft corals and brimming with fish. Boo Ridge is an underwater ridge coming off the eastern point of Boo Island. Both sides are covered in huge gorgonian sea fans. At these dive sites look out for turtles, reef sharks, pygmies, nudis and schooling batfish, fusiliers and snappers.
Shadow Reef is a submerged seamount south of Boo. The fish life here is profuse with napoleon wrasses of all sizes, baby white tip reef sharks sleeping under the table corals, schooling barracuda and batfish and for the lucky ones maybe a manta ray circling the cleaning stations. Birthday Cake is a beautiful ridge in the Boo Area. Look for pygmy seahorses, flatworms and nudibranch in the deeper section and beautiful soft corals in the shallows, where we even have seen the famous "walking shark" – epaulette shark. Eagle Nest is a seamount close to the island of Warakaraket. With the right current we have been lucky to see lots of fish action, including grey reef sharks, giant travellies hunting in clouds of fusiliers and even manta rays.
Misool – Yuliet Area
The tiny islands of Yuliet and Romeo both have surrounding plateaux in the shallows that slope down to reefs or small walls. At Yuliet there is a good chance to see the 'Santa Claus pygmy' a red colour variation of the Denise pygmy seahorse. In the shallows are large coral heads completely covered in colourful soft corals. Schools of barracuda and batfish as well as napoleon wrasses are often seen here. Romeo is a great night dive where we will look for the endemic epaulette shark, the 'walking' shark.
Misool – Fiabecet
Fiabecet area has a selection of dives where the colourful soft corals and beautiful sea fans literally smother the reefs. The soft corals here are truly outstanding. There is a deep underwater ridge connecting the island of Boo in the east to the island of Kalig in the west. In parts this ridge moves up shallower and forms the dive sites of Boo West Corner, Batu Kecil (aka Tank Rock), Nudi Rock, Whale Rock and Kalig Ridge. Expect healthy fish life, pygmy seahorses galore, nudis, colourful anemones, reef sharks and perhaps a Wobbegong shark. Anti-chovy is a large underwater seamount with some deep pinnacles covered in stunning corals. Mobula rays, golden trevallies and Napoleon wrasses can be found here. On top of the seamount look for turtles, stonefish and reef octopus.
Misool – Wayilbatan Area
Neptune Fan Sea is a small channel between two islands with a shallow wall completely covered in some of the biggest gorgonian sea fans you will ever see. At the start of the dive explore the beautiful coral heads where huge groupers can be hiding. Then drift along the wall and enjoy the view of the sea fans, stopping once in a while to find the tiny pygmy seahorse. Four Kings is a stunning dive site made up of four underwater pinnacles. Swim from one rock to the next enjoying the soft corals and fish life. Look out for schooling big eye jacks, spadefishes and grey reef sharks. Wedding Cake, Dunia Kecil and Wayili Rock offer chances to see schools of batfish, trevallies, barracuda, pygmy seahorses and reef octopus.
Misool – Daram Area
Daram is the most easterly point of the islands we might visit in Misool. The reef at Andiamo is stunning and is large enough for at least two dives. There is a submerged pinnacle where sea fans are surrounded by schools of fusiliers and batfish. A short swim across a sandy bottom brings you to the main reef lush with soft corals. In between the two islets is a gap thick with sea fans and is excellent for wide-angle photography. Look out for black tip reef sharks and napoleon wrasse, if you can see them through all the fish!
Candy Store is so named because the first divers to explore this reef felt like kids in a candy store. Huge sponges, beautiful soft corals and sea fans cover this dive site, especially in the valleys where schools of fusiliers, butterfly fish and sometimes barracuda gather. Warna Berwarna in Bahasa Indonesia means "Vibrant Colors". Expect to see sea fans in all possible colors and watch out for pygmy seahorses. On the northwestern side of the island there is a beautiful ridge coming out where tons of fusiliers and orange spotted trevallies hang out in the blue. The shallows are covered with healthy hard corals and often we get to see schooling bumphead parrotfishes.
Misool – Sagof
The little islets of Baby Rock and Two Tree Island create amazing dive sites with abundant fish life. There is a resident school of batfish at Baby Rock and Two Tree Island is often full of thousands bait fish. The Watch Towers is a massive seamount with tons of black coral in the deeper section. Schools of yellow snappers, barracudas and giant trevallies can be found in the up-current side. On the hard coral plateau look out for wobbegong sharks and crocodile fish.
Day 21 Penemu (3 dives)
Penemu is an island west of Waigeo with a selection of dives sites. Melissa's Garden is the most well known. Here there are very healthy hard coral reefs in the shallows and a beautiful coral garden sloping to the sides where schooling fish hang out in the current. Wobbegong sharks like to sleep under the coral heads and inside the large cup corals here. Hundreds of anthias dance in and out of the corals where you might also see a sea snake. Penemu Wall and My Reef are also great dives in this area.
After the two morning dives we will visit the viewpoint in Penemu where you can appreciate the iconic Raja Ampat view of the groups of islands nestled inside beautiful blue lagoons. At sunset we will dive at Batu Rufus. There is a shallow swim through framed beautifully by soft corals and sea fans. Below this is a sloping reef where hard corals shelter cardinal fish in the shallows and in the deep, Pontohi seahorses and nudibranch can be found on the coral heads.
Day 22 Dampier Strait (1-2 dives)
The strait that flows between Waigeo and Batanta is rapidly becoming known as having really good diving in Raja Ampat as a result of the nutrient-rich ocean currents passing through. Everything that makes for a wonderful dive can be found here. But even beyond the usual delights and the satisfaction of spotting prized macro subjects such as the newly discovered Pontohi pygmy seahorse on the coral heads, there are surprises to be found in every dive.
The fish life in this area is as plentiful as can be expected at sites with a great deal of healthy hard and soft coral. Wobbegong sharks can also be found at any of these dive sites, especially at Mioskon. Cape Kri holds the impressive record of 374 fish species identified during one 90-minute dive. Blue Magic is a submerged seamount where there is a chance to encounter Giant manta rays.
Ironically, sardines are about the only reef fish not found at the site of Sardine Reef, but you won't even notice as you see swarms of fusiliers, surgeonfish, trevallies, rainbow runners, sweetlips and bannerfish practically blocking out the sky swarming over a reef decorated with sea fans, soft corals and huge orange elephant ear sponges encrusted with pastel colonies of tunicates. One of the more unique thrills of this site is being able to hear "fish thunder" – the loud booming sound made when a large number of fish move rapidly through open water.
On the last full day of the cruise there will be one or two dives depending on the flight times out of Sorong the next day. After the dives we will travel back to Sorong.
Day 23 Disembarkation in Sorong
Total dives: 64-70