Sample Itinerary "BEST OF BORNEO & WEST SULAWESI Palu-Tarakan 12 Days-11 Nights"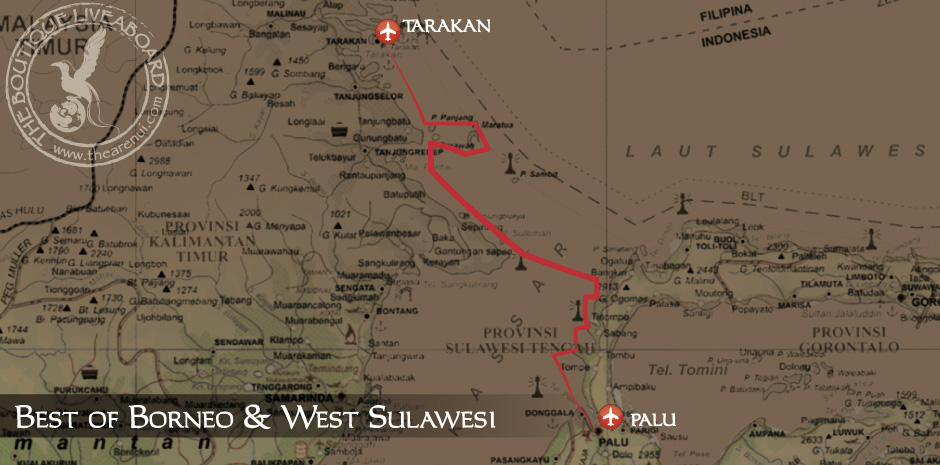 BEST OF BORNEO & WEST SULAWESI
12 Days/11 Nights Palu-Tarakan Cruise Itinerary
Our journey will start in Palu, Central Sulawesi and end in Tarakan, located on Tarakan Island, Borneo. Tarakan is one of the major cities in northern Borneo, close to the Malaysian border from Sabah, Malaysia. Both Palu and Tarakan are both well connected to Singapore via Balikpapan. They are also well connected to Bali and Jakarta via Balikpapan.
This 12 day, 11 night cruise takes us through the Makassar Strait from Palu to Tarakan in the Northeast of Borneo. This means we get to experience very distinct dive areas, all in one cruise. Leaving Palu, we follow the coastline to see the many picturesque islands and bays. Under the Dutch colonial government, Donggala was the main town and port in Central Sulawesi. After the main harbor was destroyed, ships needed to use the harbor in Palu, on the other side of the bay. Since then, Palu became the regional capital. We can expect to dive large reefs with immense soft and hard coral coverage, incredible pelagics, including sharks on almost each dive.
When then continue towards the Borneo coast, a number of incredible coral reefs and islands grow to the surface from the depths. Nutrient rich currents bring up big fish from the deep into shallower waters, allowing us to see them pursuing reef fish in hope of catching a meal.
Each island has its own unique character. We can see entire schools of manta rays at Sangalaki that are drawn here to feed on plankton. As well as turtles, Derawan has elusive treasures to be found; here we search for hidden critters. Maratua hosts massive marvels, such as sharks, barracudas and more mantas! At Kakaban island, plunge into the saltwater lake full with non-stinging jellyfish in the middle of the island. We will dive the incredible walls encircling the island of Kakaban. In the shallow waters around Samama, we scan for an abundance of macro critters, hiding in plain sight.
Day 1 Embarkation in Palu
Days 2/4 – Central/West Sulawesi-Palu (11 dives)
This area really is a world away from the tourist track. Liveaboards haven't been cruising this area for long at all and so it's unlikely we'll see many others around. The diving here is incredible and this location's appeal extends further than the diving; charming little fishing villages, deserted sandy beaches fringed by palm trees, surrounded by turquoise waters. Heaven on Earth.
Batu Suya
This site is a vertical drop-off with a unique coral reef formation. There are some magnificent overhangs and swim-throughs. Be on the look out for crabs and rare nudis. Be sure to explore the cracks and mini caves that are coated in colorful soft and hard corals, massive sponges, whip corals, black corals and huge gorgonian fans.. As well as some pretty cool frog fish, and crocodile fish we might even get to see a completely transparent glass perch.
Gili Raja Wreck
This wreck is a sunken cargo ship coated in black coral. The wreck is a World war 1 boat at 295ft/90m long and can be entered. Other key draws of this site are eagle rays, blue-spotted stingrays and schooling silversides. A big variety of reef fish as well as nudibranchs, shrimp, crabs, and starfish.
Anchor
Owes its name to a large anchor within the reef that is coated in beautiful coral. This long and thin reef is surrounded by large sandy areas that are interrupted by wonderous hard coral bommies coated in sponges, gorgonians, feather stars as well numerous shrimps and nudis. Be sure to peek under the table corals to see baby sharks taking a nap. Bumphead parrotfish and turtles are often seen here. Be on the look out for ghost and seaweed pipe fish.
Pasi Utara
This fantastic seamount is a great place to spot sharks. It also boasts beautiful gorgonians and soft corals as well as snappers, grunts, mackerels, rays and jack fish.
Pasi Pome
This site is a cone shaped sea mount that is circled by big schools of fish. We can be lucky to spot red, brown, and white leaf fish, nudibranchs,shoals of jack fish, batfish, snapper, surgeon fish, harlequin grunts, frog fish and pygmy seahorses. When there is some current running, we may glimpse grey reef sharks, eagle rays, and black/white tip reef sharks.
Pelabuhan Jetty
The critter diver's choice. Under the jetty at Donggala's Harbour we can find a variety of frogfish, seahorses, razorfish, nudibranchs, pipefish and many other treasures hidden in the sand. The seagrass here provides protection for miniature marvels.
Mutiara Wreck
This 260ft/80m long boat sank in 1954. The wreck lies on one side and the holds are now covered in soft and hard corals. This wreck can be entered and frequently here we find Longnose hawkfish, pygmy seahorses, crab and shrimps.
Enu Wall
This incredible reef lies to the side of the Bay of Palu. It descends down to 300ft/90m and is a combination of small caves, ledges and crevasses. We can find longnose hawkfish swimming along the overgrown ledges. Shoals of grunts, yellow and red pygmy seahorses are all possible here. What else? Black snappers, surgeon fish,frog fish,butterflies,napoleon wrasse, and the odd reef shark, ghost pipefish and bump heads.
Natural Reef
Natural Reef has a mix of sand and coral areas along with overhangs creating unusual topography. Here we can find napoleon wrasse, nursesharks and stingrays. As well as stonefish,lionfish, leaf fish, nudis, sweetlips and octopus hiding in holes in the reef.
Alex Point
Along a fringing reef, which is mostly flat in the shallows. It then falls steeply down to around 100ft/30m and levels out on a sandy bottom where there are plentiful bommies.One of these massive coral bommies is frequented by a station of cleaner shrimps, black snappers and harlequin grunts. Apart from invertebrates like fantastic gorgonian fans, hard corals, feather stars and slugs, there are ghost pipefish and pygmy seahorse to be found.
Green Wall
Green Wall is a vertical wall covered by hard corals and gorgonian sea fans. The reef is beautiful here and the bottom is rocky, which makes it easy for an abundant amount of different species to hide. Green Wall attracts grunts, grouper, angelfish, batfish, mackerel, moray eels, and boxfish. As well as eagle rays, sweetlips, frogfish, leaf fish,flatheads, scorpionfish, dragonets, octopu and sharks.
Days 5/6 Sangalaki (7 dives)
This area is famous for the large population of turtles and manta rays year round and guests will frequently see them feeding. The island has a turtle nursery run by the local government which can be visited. Whale sharks are frequently seen off the coast of the island.
Sandy Ridge
Macro lovers are in for a treat right here. Nudibranch, sea slug, flat worms, and other small critters galore! Butterfly fish, angel fish, and sweet lips are always resident at this site.
Turtle Town
We can expect to find…turtles! As well as unexpected surprises. Napoleon wrasse and cuttlefish. This reef is full of butterfly fish, banner fish, angel fish, surgeon fish, fusiliers, trevally, sweet lips, moorish idol, damsel fish and much more. Paradise for macro lovers too! It's also a great spot for night dives.
Coral Garden Sangalaki
Here we dive an extremely beautiful and healthy coral reef. We can find a real variety of interesting creatures here including frog fish, crocodile fish, mandarin fish, butterfly fish, angelfish, and mantis shrimp. For those who enjoy macro, we can find tiny critters such as anemone shrimps, coral crabs and sea fan crabs.
Manta Run
Manta rays will rise up from the deeper water, and then after reaching the surface, they will circle around in order to feed on plankton. Manta rays are more often seen during the afternoon. This diving spot has a good reef, good visibility and a wide variety of reef fish.
Manta Parade
As the name suggests, we are very likely to meet a number of mantas here. It's also a great place for snorkeling with manta ray here as they rise to the surface. Here, mantas are mostly seen from morning to noon. Coral reefs in this area are patchy and here we can find huge schools of fusiliers and surgeon fish. Various gobies and ghost pipe fish can also be found here. If we are lucky, we can also find leopard sharks here!
Eel ridge
This sandy bottomed dive site has a 'field' full of sand eel/ghost eel. A very different and surreal diving experience! Visibility is better during the morning to noon compared to the afternoon. We can be lucky to find lobster and mantis shrimp here too.
Manta Avenue
Manta rays can be found swimming on the surface during morning to noon. It is a shallow diving/snorkeling site, with a beautifully healthy reef. Here we swim with butterfly fish, angel fish, surgeon fish, and fusiliers. There's also the manta beauty salon located here…a secret manta cleaning station, where mantas get cleaned by cleaner fish. The manta will swim gracefully, circling around whilst we enjoy the beautiful underwater scenery.
Day 7 – Kakaban (4 dives)
Kakaban is best known for its non-stinging jellyfish lake, located in the centre of the island, a short walk from the coast. Kakaban was likely uplifted during the Holocene and sea water was trapped turning the area and formed a landlocked marine lake. The water is now a mix of salt water and fresh water from the rain. The non-stinging jellyfish have lived in this lake for hundreds of years with no known predators. Around the coastline of Kakaban island we are offered a large variety of diving, including corals, large pelagic and caves.
Barracuda Point
This exhilarating drift dive takes us along a combination of slope and drop off. We can see abundance of butterfly fish, angels, damselfish, anthias, flatworm gobies and perhaps some sharks and the famous schooling barracuda.
Cabbage Point
This dive site gets its name from the generous amount of cabbage coral coating the seabed. Amongst scorpionfish, moray eels and batfish, we can marvel at schooling fusiliers that almost move almost as if they are one lifeform. We may also come across some blue spotted stingrays along the way.
The Corner
That's right, it's located on a corner of the island! As we drift around this mix of slope and steep drop-off along the north eastern coastline, we can see schooling fusiliers, blue spotted stingrays and some mean looking giant trevallies. What else? Butterfly, anthias, surgeon, scorpion, blennies, shrimp, nudis and turtles.
The Wall
Here we can hope to be mesmerized by a huge school of jacks.Leaffish, turtles, sharks, trevallies and tons of reef fish are all possible.
Land excursion: Danau Kakaban – Translates to 'Kakaban Lake'. Using our tender boats to reach Kakban's shore, we will take a short walk to the lake's edge. Here we will snorkel and amongst four species of non-stinging jellyfish. They don't sting because they have no predators within the lake. The topography is a mix of sand and vegetation with a maximum depth of just 23ft (7m). Here we can also see gobies, shrimp, crab, nudibranch and snakes.
Days 8/9 – Maratua (8 dives)
Here we have the chance to see some thrilling big creatures. Some best dives include, "The Channel" and "Big Fish" which has whirling schools of barracuda, grey reef sharks, thresher sharks, masses of turtles and schooling eagle rays schooling.
The East Wall
The two pillars at this site are the remains of a Japanese watch tower after it has been bombed during the Second World War. Here we can find a huge variety of seafans and black corals. The dive starts with a gentle slope that becomes a sharp, almost vertical drop-off. The barrel drum coral here are massive in size. This dive site is also called 'Eagle-Ray Point', because eagle-rays are often spotted here.
The Channel
Diving at beginning high tide when the current is flowing into the lagoon. With a considerable current, we can hook onto the reef to look out for eagle rays, barracudas, groupers and sometimes even whalesharks!
Coconut Wall
The drop off takes us along the coast drifting normally in a southeasterly direction. As well as anthias, flatworms, nudis and batfish, we can see schooling snappers and perhaps some sharks and majestic eagle rays.
Lighthouse
Here the drop-off slopes to a sandy bottom. The current here is mild and we can see a big school of batfish and sometimes leopard sharks. In the shallows we can see schools of of grouper and red snapper.
Paradise 123
Along this coral slope we can see…fusilier, sweetlips, butterfly, angel, grouper, damselfish, anthias, batfish, scorpion, blennies, shrimp, crab, nudibranch, turtles, rays and maybe black tipped reef sharks. What would be the ultimate treat to see here? To meet a thresher shark or two!
Kehedaeng
Here along this beautiful fringing coral reef we have the chance to see: Fusilier, Butterfly, Angel, Grouper, Damselfish, Anthias, Scorpion, Blennies, Shrimp, Crab, Nudibranch, Turtle and even Sharks!
Turtle Traffic
Love green sea turtles? This dive is for you! Maybe we can see up to 30 on just one dive. Here we can experience a relaxing drift dive. We also have the chance to see small groups of barracudas, jackfish and stingrays.. Being mindful to look out for critters on the reef. This location is beautiful for macro photography.
Land excursion: Goa Halo Tabung, Maratua Island – We use our tender boats to reach the southwest coast of Maratua where we hop off onto a wooden bridge. We then walk a short half mile to Goa Halo Tabunge (meaning Halo Tube Cave). We are met with beautiful, turquoise, still water which we can enter using steps on the low side of the pool and begin our swim through the cave. Sea water enters through the crevices of the cave, which is why the water here is salty.
Donning snorkeling equipment and buoys, we can enjoy an easy and relaxing float through this tunnel-like cave. Surrounded by the chirping crickets, luscious greenery and tranquil atmosphere, this is a moment to savour.
Day 10 – Derawan (4 dives)
Part of the Coral triangle, Derawan Islands have one of Indonesia's richest and diverse ocean life. Not just diversity of Cave dives, wreck dives, muck dives, drift dives, walls, plateaux. 
Old Pier
Gets its name, from you've guessed it; a pier! As we follow the coral slope down and work our way south and to the east along the shoreline, we can see an abundance of butterfly fish, angels, damselfish, anthias, wrasse, gobies, shrimp and nudis. Perhaps a turtle or two and the blue spotted stingrays and schooling fusiliers are for sure the highlight.
Shark Point
As we descend the coral lope that becomes a drop off. Amongst the crabs, turtles and morays, the big attraction here is the possibility of seeing some sharks along with the impressive sight of schooling jacks.
Blue Trigger Wall
This healthy coral reef slope and wall combination is home to schooling of fusiliers and blue triggerfish. As we go along this comfortable drift, what else is there to see? Batfish, gobies, blennies, shrimp, nudibranch, turtle and shark, all have a good chance to be seen here.
Tuturuga Point
This dive site, a mix of sand and coral is impressive both by day and by night. As well as the usual suspects in this area, it is special for being home to frogfish, leaf fish, scorpionfish, flathead, Blennies, dragonet, octopus and rays.
Day 11 – Samana (3 dives)
About 15 min by boat from Sangalaki is another dive location, Samama, perfect for macro. We are likely to see pygmy seahorses and a lot of nudibranchs. The island has a large area of mangrove and the dive sites are all very shallow. Currents are very mild and so we can take some good, long dives. Sunlight filters onto the hard and soft corals illuminating them in a rainbow of color. Reef life is abundant with many schools of fish. Be on the lookout for blue ribbon eels at the edge of the reef. Minute pygmy seahorse can be found camouflaged in gorgonian seafans.
Day 12 – Disembarkation in Tarakan
Total dives: 38