SAMPLE ITINERARY "BEST OF INDONESIA Labuanbajo-Sorong 23 days-22 Nights"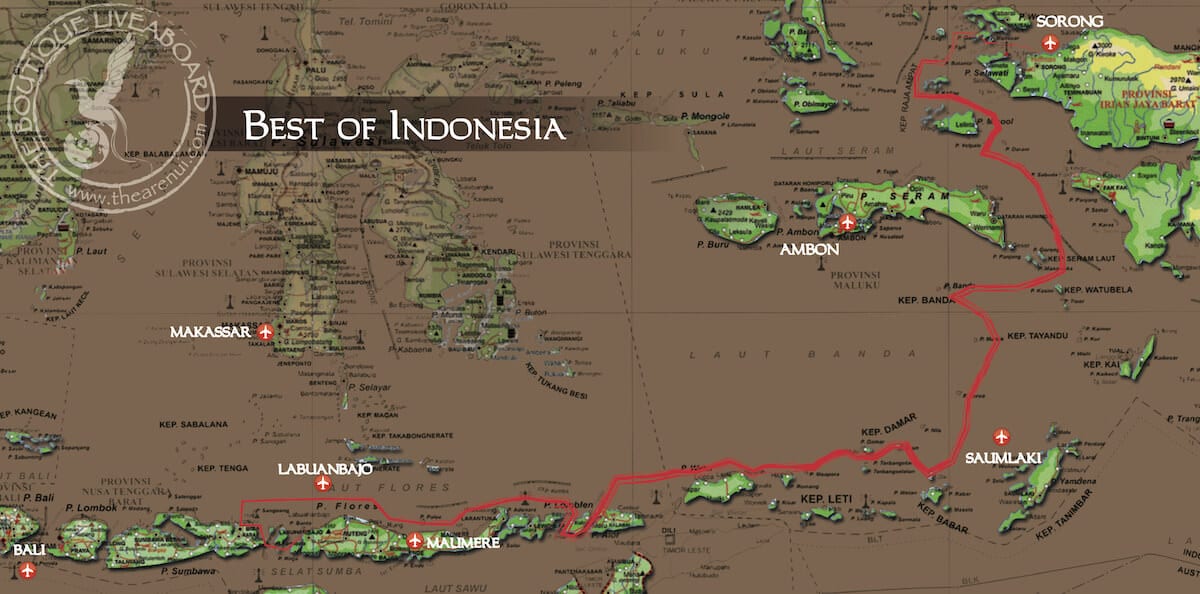 BEST OF INDONESIA
22 Days/23 Nights Labuanbajo–Sorong
Day 1 Embarkation in Labuanbajo
Day 2 Komodo-Flores Channel (4 dives)
Currents in this area can be quite strong and we have to dive according to the tides. There are many dive sites and the sites chosen will be dependent on the currents. Finish the day with a great night dive at Wainilo. Komodo is an excellent place for spotting macro critters and the reefs and corals are spectacular too. See some photos here.
Sebayur Island
This island has a white sandy slope that turns into a mini wall, perfect for a check dive. Look for leaf fish, ghost pipefish and a variety of nudis at the edge of the reef. Various nudibranchs, lionfish and moray eels make the wall their home. In the shallows the hard corals are decorated with anthias and we often find large cuttlefish and juvenile bicolour parrotfish.
Siaba Kecil
Here at Siaba Kecil we have a magnificent formation of hard coral from the shallows of the island till a depth of 20m/60ft. The current running from the south to north is the best way to dive this site. During the drift and also at the end of the drift we have a great chance to see green and hawksbill turtle feeding on the formation of hard coral, white tip reef sharks also can be seen here. Reef manta rays can occasionally swim by the coral garden of this site.
Karang Makassar
This is an exhilarating drift dive along the shallow flat bottom interspersed with patches of coral reef teeming with life. There are chances to see turtles, eagle rays and white tip and black tip reef sharks. But the main reason we dive here is to hopefully see manta rays. Reef mantas come here to visit the cleaning stations but they can also be spotted, mouth wide open, feeding on the surface. This area can also be a very good snorkelling spot.
Batu Bolong
Underwater this rock is covered in a huge amount of soft and hard corals and full of fish life. In the shallows watch anemone fish and look out for turtles munching on the corals. Giant trevally, white tip reef sharks, snappers and emperor fish tend to congregate here. This site presents particularly good opportunities for both macro and wide-angle photography.
Tatawa Besar
This is a thrilling drift dive that starts off from the northwestern tip of Tatawa and continues down the western side towards 15 to 20 meters of depth. The surrounding fish life is profuse and you will see an endless field of stunning orange soft corals as you glide along. Swim past coral heads inhabited by schools of sweetlips and batfish and look out for turtles feeding on the reef. Mantas have been encountered here as well.
Tatawa Kecil
The West side of this small rocky outcrop presents a fantastic underwater terrain with enormous slabs of rock that have been worn down to form channels, canyons, caves and swim-throughs. On the north plateau crocodile fish lie on the scenic reef among a whole host of reef fish and schooling fusiliers.
Batu Tengah
This dive site is located in the middle of the Komodo National Park, 12 nautical miles to the north and 12 nautical miles to the south. The translation of Batu = Rock, Tengah = Middle. With a slope to the east of the site and a coral garden to the west Batu Tangah is a beautiful site where we often get to see turtles, cuttlefish and juvenile white tip reef sharks that hide under the table corals among the hard coral garden. Napoleon wrasse and big groups of snapper swimming on the slope with all the colourful decoration of the soft coral make Batu Tengah a high quality dive site.
Wainilo
This night dive is situated off the north of Rinca Island. In the shallows, the hard coral reef is home to many different critters, including juvenile harlequin sweetlips and batfish. Away from the reef, the sandy slope is scattered with pulsing soft corals that hide demon stingers and starry night octopus, plus a moray eel that has not yet been classified by scientists and is only found here in Wainilo.
Day 3 Walk with dragons / Komodo-Flores Channel (3 dives)
Loh Buaya (walk with dragons)
Your day will begin with an exciting visit to Komodo National Park where you will be able to take a stroll with the famous dragon! Take a look at our Komodo Dragon photo album here. As you walk along the paths, also stay on the lookout for deer, wild boar and birds in addition to the giant lizards.
After the walk you will have the opportunity to do two more dives in the Komodo-Flores channel before finishing the day with a great night dive off the island of Gili Lawa Darat.
Day 4 North Komodo (4 dives)
Two celebrated dive sites await you, just north of Gili Lawalaut Island. Crystal Rock and Castle Rock are both incredible locations, boasting the key elements for any impressive dive site: a wide variety of healthy corals covering the reef, plus tons of fish – both big and small and all sizes in between! There are more exhilarating dives in this area, Aquarium, Coral Garden, Gili Lawalaut Lighthouse and a bit more to the northeast Batu Montjo, along with good night dives on healthy hard coral reefs off the island of Gili Lawa Darat. Between the dives there is a chance to visit Gili Lawalaut Island and take a short trek to the top of the hill for a wonderful view over the Komodo-Flores channel.
Crystal Rock
The rock jutting out of the surrounding crystal clear waters explains how this site got its name. But what is truly memorable here are the large schools of fusiliers and anthias flitting over the gorgeous soft corals and impressive table corals. In the deep blue, you can also see at times large tuna, mackerel and other fish schooling around a small mound to the northwest. A lone eagle ray is often spotted here cruising in the currents.
Castle Rock
Castle Rock is a submerged pinnacle situated a kilometre further north from Crystal Rock. Its exposed location means strong currents but experienced divers will love the thrills to be had on this dive. In fact, the main action comes from watching the staggering amount of fish such as batfish, groupers, midnight snappers and impressive schools of fusiliers and surgeons whipping past. Of course, divers aren't the only ones interested in the huge amount of fish here, which explains the giant trevally as well as whitetips, blacktips and grey reef sharks hunting around for their next meal.
Aquarium
This beautiful shallow dive site on the southwest corner of Gili Lawalaut offers a good possibility to see manta rays passing by. Big coral formations surrounded by thousands of glassfish offer amazing wide angle photography opportunities. White tip reef sharks can be found in the sandy bottom area and hawksbill and green turtles can be seen along the calm flower coral reef.
Coral Garden
We start the dive in a white sandy area with stunning coral heads and big barrel sponges. Watch out for leaf scorpionfishes, hairy squat lobsters, morey eels and different types of stingrays. The reef converts into a beautiful hard coral wall where thousands of fusiliers and dozens of trevallies and snappers can be seen.
Batu Montjo
In the northwest of Komodo Island, Batu Montjo is a perfect site to dive as a third dive with a amazing formation of hard corals in the shallows. Many boulders covered with gorgonian sea fans lie in between the white sandy slopes. This combination of hard corals and gorgonian sea fans with all the fish swimming in between the coral garden makes for a perfect relaxing afternoon dive. Leaf fish, mantis shrimp, jaw fish and turtles are often seen at this site.
Gili Lawalaut Lighthouse
On the north of Gili Lawalaut there is a lighthouse at the end of a long reef. When the tide is going down the dive starts on the reef with a drift to the corner. At the corner there are big schools of batfish, snappers, surgeons with napoleon wrasse and reef sharks also hanging around.
Day 5 Palu'e Island (3 dives)
Palu'e is located north of Flores Island and 45 nautical miles from Maumere. It is part of the Lesser Sunda Islands and Rokatenda (Paluweh) volcano is located in the northern region of Palu'e. There is a population of almost 10,000 people in eight mountain villages. There are no roads or vehicles on the island. The volcano erupted in August 2013 and is still smoking today.
Wall in the Falls
Wall in the Falls is located on the south west of the island. As the name suggests this is a beautiful wall that drops from the depth of 8 metres – 24 ft to about a depth of 30 meters – 90 ft. Along this dramatic and very long wall there are overhangs and cuts with opportunities to see leaf fish, reef octopus, nudibranchs and in particular the juvenile stage of many different kinds of reef fish. We can enjoy also the beauty of the large size of tube sponges, gorgonians sea fans and the black coral bushes along the wall and the hard coral garden in the shallows of the dive site.
Day 6 Bacatan (4 dives)
Next to the north of Kawula Island there is a beautiful, calm bay overlooked by Lewotolo volcano. We spend the day diving here.
Tanjung Bacatan
Tanjung Bacatan is within view of Lembata and Komba volcanoes. Tanjung means corner and the dive site is situated on a point on the north shore of Kawula island. The dive site consists of a wall covered in crevices and ledges covered in soft corals and large sponges with hard coral gardens in the shallows. At one end the wall turns into a white sandy slope hosting many varieties of reef fish and triggerfish. A resident school of barracuda can be seen here as well as turtles and maybe even large trevallies passing by.
Takat Prau
In the middle of the bay there is a seamount we call Takat Prau. There is a small wooden fishing boat wrecked in the deep right next to a sea fan with pygmies. There can be schooling fusiliers here with small reef sharks patrolling the pinnacle. Leaf fish make their home in the shallows and large reef octopus are often spotted hunting in the hard coral.
Padang Pasir
This dive site has two sections. A huge expanse of white sand extends to the south and a mini wall and reef comes out from the corner of the island. In the sandy area look for waspfish, flounders, stingrays and ghost pipefish. On the wall algae shrimp, moray eels, lionfish and beautiful angelfish hide out. At the top of the reef there are healthy staghorn corals where you might spot a mandarin fish. At night the wall and reef come alive with shrimps and crabs and there is a chance you will see Spanish dancer nudis. Or hunt around in the sand for stargazers, bobtail squid and frogfish.
Day 7 Pura Island/Kalabahi Bay (4 dives)
Dives in the Alor/Pantar Strait promise a variety of thrills as the sites present a wide array of exciting possibilities, with topography ranging from dramatic shear drop-offs, spurs jutting out from the shore mingling together with shallow reefs where the light brings out the full colour of the dazzling corals covering all surfaces. The water temperature can be a little cooler in this area dropping from the normal 28/29 degrees Celsius (82-84 Fahrenheit) to a possible 20 Celsius (68 Fahrenheit).
Here you can see the famous Pura Island villagers splash out of their wooden dugout canoes diving underwater with homemade goggles made out of wood and the ends of glass bottles.
During the day we will also look out for large pelagics who use the Pantar Strait as a thoroughfare. If there are any sightings of whales, dolphins or even Mola Mola we may forego a dive and head out in the tenders with snorkelling gear to see if we can have a lucky encounter.
Yan Village
At Yan Village there are several wonderful spots to dive. Walls covered in sponges topped with shallow hard coral reefs where you can spot the elusive Mandarin fish to black sandy slopes where fans of macro will get their fill too. Some examples of the critters here are frogfish, weedy scorpionfish, all sorts of nudibranchs and yellow, blue and black ribbon eels.
Clown Valley
One exceptional dive site on Pura Island is probably the only place in the world where you will see this phenomenon. The entire reef is completely covered in anemones of all shapes and sizes. Enjoy a drift dive along this site and enjoy the abundant fish life, with thousands of colourful anthias and damsels dancing off the reef. Take a look at photos of Clown Valley and other wide-angle opportunities in Alor here.
Kalabahi Bay
Mucky Mosque and Rocky Church are two of the great muck dives we will do inside Kalabahi Bay on Alor Island. The 'holy grail of fish' Rhinopias can be found here, with a chance to see both the weedy and paddleflap scorpionfish. Ghost pipefish, soft coral crabs, frogfish, various octopus including the wunderpus and mimic, snake eels, sea moths, sand divers and many other remarkable creatures The only way you are likely to see stranger is if you do a night dive here when unimaginable ones begin foraging out of their holes.
Day 8 Visit traditional Abui tribe village/Reta Island (1 dive)
In the morning we will visit Takpala or Latevui village, both villages still living by their old Abui traditions. The villagers will perform the Lego-Lego dance wearing traditional clothing with brass anklets that make a wonderful jingling sound as they perform. Afterwards there is an opportunity to purchase handmade ikat, woven fabrics of various colours and motifs, as well as jewellery and wooden artifacts. Take a look at our photo album of these villages at Alor Abui Tribe
After the village tour we will travel out into the Alor/Pantar Strait to Reta Island where we will do one dive before traveling to Wetar Island.
Cave Point
This dive site is on Reta Island and has beautiful vertical walls with overhangs, undercuts and a deep plateau at 25m/75ft. It is full of hard and soft corals, barrel sponges and whip corals. At the top of the wall is a coral garden teeming with reef fish. In this area you should always keep an eye out into the blue for Mola.
Days 9-13 Forgotten Islands
The Forgotten Islands are part of a remote archipelago in the southeast corner of the Moluccas (Maluku Tenggara). Despite the remote feeling in other parts of Indonesia (such as Alor or Banda), the Forgotten Islands are isolated even by Indonesian standards, covering a 1,000 km long chain of islands staring at Timor and extending up to West Papua. The Tanimbar group of around 65 islands that separate the Banda Sea from the Arafura Sea include the island of Yamdena where the capital Saumlaki is the final destination on this cruise.
There are many groups of islands in this area and the Forgotten Islands are relatively undiscovered and still being explored. The exact itinerary around these islands will depend exclusively on the weather and current conditions. Also, due to the big distances between island groups some of the days will include three day dives before heading off in the afternoon and travelling overnight. When the next location is closer and there are anchorage spots in sheltered bays we will offer a fourth dive, usually a night dive.
Dive sites in the Forgotten Islands are characterised by endless reefs and spectacular deep walls covered in soft corals, sea fans and huge sponges. These islands usually experience amazing visibility and warm water around 27-30C (81-86F). Here are the names of the islands we may visit (weather permitting) during your cruise:
Day 9 Pulau Wetar/Reong (3 dives)
Not many people can say that they have dived Wetar Island. It has several calm bays where interesting critters can be found as well as swift drift dives between Wetar and Reong that takes you past a spectacularly coloured wall.
The small island of Reong, which lies off the northwest coast of Wetar, presents a change in scenery as it is made of limestone. Reef sharks, barracuda and trevallies frequently visit these waters. Other delights can be found while diving the impressive walls and a site full of diverse marine life.
Tanjung Nunukae on Wetar Island is generally characterised by shallows forming a plateau that narrows as it goes deeper until it drops off abruptly, forming a very nice wall swathed in gigantic sea fans, cup corals and impressive sponges. Divers have come across both mobula and manta rays here. Currents are generally moderate to strong.
Day 10 Nyata (4 dives)
Tanjung Nyata is a wall covered in huge sponges that then turns into a deep, steep slope. On the way look out for passing large fish like tuna and trevallies. At the top of the wall is a very healthy hard coral reef where there is a resident school of snappers. At the start of the slope is a deep pinnacle where grey reef sharks circle and on the slope itself are again huge sponges and schooling fish such as barracuda, surgeon fish and fusiliers. Thousands of blue tooth triggers and pyramid butterfly fish hang out. We have even seen eagle rays pass by.
Day 11 Pulau Damar/Nusleur/Terbang (4 dives)
Close to the big island of Damar the small islands of Nusleur, Terbang Utara and Terbang Selatan are surrounded by pristine beaches that stretch out to coral reefs that then drop down to the most beautiful, untouched walls. From top to bottom, the reef is an explosion of different colours and forms and seems to be in constant motion from the swarms of fish darting about. You may find yourself floating in the midst of a huge school of fish as the sea creatures here appear quite curious, perhaps because they are generally not used to seeing many divers. Another unique attraction in this area is the wall of sulphur formed as a result of its proximity to the volcano on Damar. There is a possibility to visit a village on Damar where there is also a black sand night dive.
Day 12 Nil Desperandum (3-4 dives)
Teun, Nila and Serua, often referred to as TNS, are all small, very remote volcanic islands only accessible by liveaboard, located just east of Damar. You will feel as if you have reached the ends of the earth and that may be why there is a growing interest in diving in this zone. Although the sites here remain relatively unexplored, experiences so far have revealed tremendous diving potential and splendid coral reefs.
Close to the small island of Nila are two atolls Dusborgh and Nil Desperandum. Nil Desperandum means "don't despair" possibly referring to a ship wrecked here centuries ago. It is a big atoll with very deep drop offs. Schooling sharks have been spotted in the deep here with a chance to see hammerhead, silky and grey reef sharks.
Day 13 Manuk (3 dives)
The island of Manuk is the eastern-most volcano of Indonesia and presents two very unique highlights above and below the water. Topside, it is possible to revel in the spectacle of thousands of seabirds, including comical yet beautiful frigate birds and boobies. The sight is unforgettable. One of the few phenomena able to rival that display is the vision of a dozen sea snakes undulating and swimming underwater. Some divers have even been lucky enough to watch them hunting in a pack. It is thought that the warm geothermal vents present in these waters attract these cold-blooded creatures in large numbers. In addition to these singular wonders, the island's reefs are also stunning and there is a good mix of coral-covered walls and slopes in all colours and sizes. Besides an outstanding variety of reef fish, you may also see some tuna, jacks and sharks.
Day 14 Banda Islands (4 dives)
Most widely known as one of the main stops along the old spice route, the Banda Islands are an isolated group of islands in the midst of the wide expanses of the Banda Sea. The remoteness of these islands has given it a fascinating, colourful history, including the fact that it was once the only place in the world where nutmeg grew.
The diving here is usually fairly relaxing with mild current, good visibility and calm waters, but there are spots with strong currents. However, our experienced dive guides will of course properly brief you on the conditions to be encountered and will plan the dives according to divers' experiences. Here is a list of possible dive sites:
Batu Kapal
Here there is a submerged pinnacle next to the main dive site which has a rock breaking the surface that is in the shape of a boat, hence the dive site name Batu (rock) Kapal (boat). Fish are present here in incredible numbers along with huge gorgonians and some truly monumental sponges. Look out for Napoleon wrasses in the deep and a very special fish only seen in the Banda Sea area, the soap fish.
Pohon Miring
At most sites in the Banda Islands, you will see enormous schools of fusiliers, thousands of redtooth triggerfish and hundreds of schooling pyramid butterflyfish. At this dive site there is a large crack in the reef that creates a deep swim-through. Drift through the hole and then enjoy the wall covered in sponges on the other side. On the top of the wall see many moray eels and perhaps a school of Bumphead parrotfish munching on the rocks.
Princes Reef
Princes Reef is just outside the bay of Banda Neira. It is a long reef covered with a myriad of sponges, usually decorated blue with hundreds of fusiliers. Ribbon eels can be found in the sandy patches and pygmy seahorses have been found on the sea fans here.
Banda Jetty
The sunset dive in the harbour can prove to be one of the best sites in the world to see Mandarin fish. In the very shallow water, among the stones from old, collapsed sea walls and jetties live many Mandarin fish. We will jump in just before dusk and they will 'walk' around on the rocks right in front of you preparing for the nightly mating ritual. Be patient, you may get lucky and see them flutter up off the reef, cheek to cheek. If you've had enough of the Mandarin fish, the rocks and volcanic sandy bottom are also covered in other macro critters.
Day 15 Banda Neira Tour/Banda Islands (1 dive)
Intriguing remnants of the old lucrative spice trade are still present in Banda Neira and give a taste of colonial times. Explore Pulau Neira and spend the morning walking through its historic little town. The town is full of interesting houses dating back to the Dutch and English periods. There is also the well-preserved Fort Belgica with its fantastic views overlooking the waters around the island. We'll visit a traditional nutmeg plantation where you will see nutmeg, cinnamon and clove trees nestled around the plantation farmer's house. Enjoy a plantation tea under the shade of cocoa trees and try nutmeg jam, candies, cake and cinnamon biscuits. Take a look at our Banda Islands photo album here.
After the tour we will do one more dive in the Banda Islands before heading north to Nusa Laut.
Lava Flow
A famous dive site in the Banda Islands it is at the bottom of a lava flow coming down from the peak of the Banda Api volcano. Underwater be amazed by the growth of hard coral when you take into account that the lava flowed into the sea in 1988, not so long ago. Staghorn coral gardens stretch off into the crystal blue water as far as the eye can see. One usual coral formation to look out for here is table corals that have collapsed on to their sides but continue to sprout mini table corals off its flat edges.
Day 16 Koon (2-3 dives)
Too Many Fish
Our next stop is Koon Island, located southeast of Seram Island and over a trench that goes down to more than 3000 meters. There is only one dive site here and its distinct name of "Too Many Fish" is aptly deserved. The reason for this name becomes obvious to anyone who dives here. Large schools of all kinds of fish are seen here especially black snappers, batfish, barracuda and fusiliers. The sloping reef is full of beautiful corals interspaced with white sandy patches, going into a steep wall at around 30m/100ft. In the deep look for large groupers, sharks or even a passing eagle ray. In the shallows schools of banner fish, Oceanic triggerfish and red snappers decorate the reef. With all the fish in the usually perfect visibility you probably won't be looking at the macro residents of this reef but if you do pygmies, leaf fish, nudis and ghost pipefish have been seen here. Depending on the phase of the moon, strong currents can make this dive site very challenging but unforgettable.
Depending on the weather we will do two to three dives here before heading to Raja Ampat.
Days 17-18 Misool, Raja Ampat (7-8 dives)
Raja Ampat means 'Four Kings'. In an archipelago of over 1,500 small islands there are four main islands or 'kings'– Waigeo, Salawati, Batanta, Misool. The majority of Raja Ampat is in Marine Protected Areas. These islands usually experience varying visibility depending on the weather conditions and warm water around 27-30C (81-86F).
Misool is in the south of Raja Ampat and we will dive at the many small islands in the southeast. Southeast Misool is famous for the profusion of colourful soft corals and sea fans beautifully draped all over the reefs. Take a look at some photos taken in this area in our album Soft Coral Heaven.
The islands in southeast Misool are grouped by areas. Here are the names of the areas and dive sites we may visit (weather permitting):
Misool – Boo Area
Boo Windows is the famous dive site in this area. It is best known for the "windows" or rounded openings on the end of the largest rock that completely pierce the reef from the surface down to about five meters/fifteen feet. Although the two rocks appear separate from the surface they are in fact connected underwater by a magnificent reef draped in soft corals and brimming with fish. See photos of the Windows here. Boo Ridge is an underwater ridge coming off the eastern point of Boo Island. Both sides are covered in huge gorgonian sea fans. At these dive sites look out for turtles, reef sharks, pygmies, nudis and schooling batfish, fusiliers and snappers. Shadow Reef is a submerged seamount south of Boo. The fish life here is profuse with napoleon wrasses of all sizes, baby white tip reef sharks sleeping under the table corals, schooling barracuda and batfish and for the lucky ones maybe a manta ray circling the cleaning stations.
Misool – Yuliet Area
The tiny islands of Yuliet and Romeo both have surrounding plateaux in the shallows that slope down to reefs or small walls. At Yuliet there is a good chance to see the 'Santa Claus pygmy' a red colour variation of the Denise pygmy seahorse. In the shallows are large coral heads completely covered in colourful soft corals. Schools of barracuda and batfish as well as napoleon wrasses are often seen here. Romeo is a great night dive where we will look for the endemic epaulette shark, the 'walking' shark.
Misool – Fiabecet
Fiabecet area has a selection of dives where the colourful soft corals and beautiful sea fans literally smother the reefs. The soft corals here are truly outstanding. There is a deep underwater ridge connecting the island of Boo in the east to the island of Kalig in the west. In parts this ridge moves up shallower and forms the dive sites of Boo West Corner, Batu Kecil (aka Tank Rock), Nudi Rock, Whale Rock and Kalig Ridge. Expect healthy fish life, pygmy seahorses galore, nudis, colourful anemones, reef sharks and perhaps a Wobbegong shark.
Misool – Sagof/Wagmab/Farondi Area
This area offers several different dive sites. At Sagof the little islets of Baby Rock and Two Tree Island create amazing dive sites with abundant fish life. There is a resident school of batfish at Baby Rock and Two Tree Island is often full of thousands bait fish. At Wagmab and Farondi dive into Eddy Cave and surface inside to see the stalactites hanging from the top of the cavern. Outside the wall is full of overhangs and caves where divers are likely to encounter groups of snapper and large groupers resting at the bottom. At Three Sisters, Grouper Net and Wagmab Corner look for wobbegong sharks resting under ledges or on top of cup corals. Sea fans fill the walls and slopes so be on the look out for pygmy sea horses. Between dives there is a chance to go on our Jungle River Tour to see the secret lagoons around Wagmab Island.
Day 19 Misool & Tomolol Cave (1 dive)
We will do one dive and then there is a possibility on this day to visit Tomolol Cave that has a river-sized waterway running through it. We take a 20-minute tender ride through a pearl farm and into the rugged interior. Once at the cave we float and paddle our way inside to enjoy the amazing rock formations. There is a large opening at the other end and also a 'secret' cave to explore. This tour is dependent on receiving permission from the pearl farm and local village. Check our Tomolol Cave photo album.
Day 20 Penemu Island (3 dives)
Penemu is an island west of Waigeo with a selection of dives sites. Melissa's Garden is the most well known. Here there are very healthy hard coral reefs in the shallows and a beautiful coral garden sloping to the sides where schooling fish hang out in the current. Wobbegong sharks like to sleep under the coral heads and inside the large cup corals here. Hundreds of anthias dance in and out of the corals where you might also see a sea snake. Takat Penemu is a long, submerged seamount, Penemu Wall, My Reef and Harto's Reef are also great dives in this area. After the two morning dives we will visit the viewpoint in Penemu where you can appreciate the iconic Raja Ampat view of the groups of islands nestled inside beautiful blue lagoons. Check out our Beaches & Islands album. In the afternoon we will dive at Batu Rufus. There is a shallow swim through framed beautifully by soft corals and sea fans. Below this is a sloping reef where hard corals shelter cardinal fish in the shallows and in the deep, Pontoni seahorses can be found on the coral heads.
Days 21 & 22 Dampier Strait (5-6 dives)
The strait that flows between Waigeo and Batanta is rapidly becoming known as having some of the most spectacular diving in Raja Ampat as a result of the nutrient-rich ocean currents passing through. Everything that makes for a wonderful dive can be found here. But even beyond the usual delights and the satisfaction of spotting prized macro subjects such as the newly discovered Pontohi pygmy seahorse on the coral heads, there are surprises to be found in every dive.
Ironically, sardines are about the only reef fish not found at the site of Sardine Reef, but you won't even notice as you see swarms of fusiliers, surgeonfish, trevallies, rainbow runners, sweetlips and bannerfish practically blocking out the sky swarming over a reef decorated with sea fans, soft corals and huge orange elephant ear sponges encrusted with pastel colonies of tunicates. One of the more unique thrills of this site is being able to hear "fish thunder" – the loud booming sound made when a large number of fish move rapidly through open water. Chicken Reef, Kerupiar Island and Friwin Bonda are all dive sites in Dampier Strait full of these wonders.
The fish life in this area is as plentiful as can be expected at sites with a great deal of healthy hard and soft coral. Wobbegong sharks can also be found at any of these dive sites, especially at Mioskon. Cape Kri holds the impressive record of 374 fish species identified during one 90-minute dive. At Otdima Reef there is a school of friendly sweetlips who group around one deep coral head. Blue Magic is a submerged seamount where there is a chance to encounter Giant manta rays. A muck night dive awaits you at Saonek Jetty or Jembeser Jetty where we can find bobtail squid, octopus, stargazers, ghost pipefish, toadfish and lots of nudis.
There is also a small village with Sawandarek Jetty. In the shallows the jetty posts are covered in soft corals and below look for pipefish and cuttlefish. On the reef see huge giant clams nestled among pulsing soft corals. At night listen for the toadfish croaking from under the rocks and look for huge lobsters and maybe even catch a glimpse of the endemic epaulette shark, the 'walking' shark. The reef also provides shelter for many interesting small animals like hermit crabs, flatworms and the very cute pughead pipefish.
Between the dives there is an opportunity to visit the village on Sawandarek Island to see the traditional way of life for these island people. Be ready to be greeted by many children who are more than willing to pose for photographs. Anyone joining our cruise is more than welcome to bring along some goodies for the children at Sawandarek. Obviously, the children love candy but we encourage people to bring pencils, pens, notebooks or coloring books – all of which don't rot their teeth! The school always needs more materials and the girls love hair clips and bands. Please try to limit the amount of plastic packaging, leave this at home where it can be correctly recycled.
An optional tour in the Dampier Strait area is a hike in the jungle to see Birds of Paradise. There will be an extra charge for this tour and it is dependent on the weather and all of the guest's preferences.
On the last full day of the cruise there will be two dives depending on the flight times out of Sorong the next day. After the dives we will travel back to Sorong.
Day 23 Disembarkation in Sorong
Total dives: 62-66 dives