Sample Itinerary "KOMODO-ALOR Labuanbajo-Maumere 13 Days-12 Nights"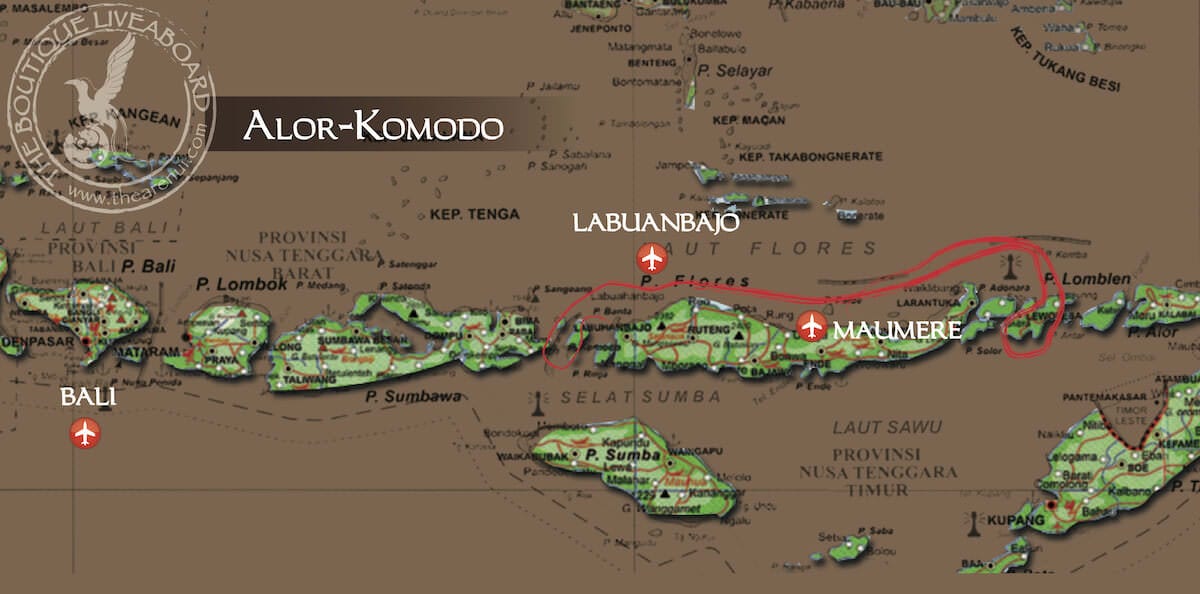 KOMODO-ALOR
13 Days/12 Nights Labuanbajo – Maumere KOMODO-ALOR Cruise Itinerary
Day 1 Embarkation in Labuanbajo
Day 2 Komodo-Flores Channel (4 dives)
Currents in this area can be quite strong and we have to dive according to the tides. There are many dive sites and the sites chosen will be dependent on the currents. Finish the day with a great night dive at Wainilo. Komodo is an excellent place for spotting macro critters and the reefs and corals are spectacular too. See some photos here.
Sebayur Kecil
This island at the east side of Komodo National Park is a perfect spot to do our check-out dive as currents tend to be very mild here. We start the dive on a white sand patch were we can look out for blue spotted stingrays, garden eels and other sand inhabitants. Continuing to the east the reef gets into a beautiful hard coral wall. Leaf scorpionfishes, reef octopus and morey eels are only a few of the inhabitants of this site.
Tatawa Besar
This is a thrilling drift dive that starts off from the northwestern tip of Tatawa and continues down the western side towards 15 to 20 meters of depth. The surrounding fish life is profuse and you will see an endless field of stunning orange soft corals as you glide along. Swim past coral heads inhabited by schools of sweetlips and batfish and look out for turtles feeding on the reef. Mantas have been encountered here as well.
Batu Bolong
Underwater this rock is covered in a huge amount of soft and hard corals and full of fish life. In the shallows watch anemone fish and look out for turtles munching on the corals. Giant trevally, white tip reef sharks, snappers and emperor fish tend to congregate here. This site presents particularly good opportunities for both macro and wide-angle photography.
Wainilo
This night dive is situated off the north of Rinca Island. In the shallows, the hard coral reef is home to many different critters, including juvenile harlequin sweetlips and batfish. Away from the reef, the sandy slope is scattered with pulsing soft corals that hide demon stingers and starry night octopus. Different types of nudibranch, frogfishes, harlequin shrimps and even wheedy rhinophias have been seen here.
Day 3 Walk with dragons/Middle Area (3 dives)
Loh Buaya (walk with dragons)
Your day will begin with an exciting visit to Komodo National Park where you will be able to take a stroll with the famous dragon! Take a look at our Komodo Dragon photo album here. As you walk along the paths, also stay on the lookout for deer, wild boar and birds in addition to the giant lizards. After the walk we move to the middle area of Komodo National Park.
Takat Makassar
This is an exhilarating drift dive along the shallow flat bottom interspersed with patches of coral reef teeming with life. There are chances to see manta rays, turtles, eagle rays and white tip and black tip reef sharks.
Siaba Besar
This spot is a nice combination with a white sand area where we can find some great critters as frogfishes, ghost pipefishes, devil scorpionfishes, upside down jellyfish and a big amount of flounders. On the hard coral area watch out for big green turtles, leaf scorpionfishes and pajama cardinalfishes.
Siaba Kecil
This little island offers a beautiful drift dive with some nice overhangs where sweetlips, snappers and trevallies can be found. After the drift we finish the dive in a pretty shallow staghorn coral area with hundreds of anthias and feeding hawksbill turtles. Have a look as well into the blue, very often we see eagle rays passing by.
Batu Tengah
This dive site is located in the middle of the Komodo National Park, 12 nautical miles to the north and 12 nautical miles to the south. The translation of Batu = Rock, Tengah = Middle. With a slope to the east of the site and a coral garden to the west Batu Tangah is a beautiful site where we often get to see turtles, cuttlefish and juvenile white tip reef sharks that hide under the table corals among the hard coral garden. Napoleon wrasse and big groups of snapper swimming on the slope with all the colourful decoration of the soft coral make Batu Tengah a high quality dive site.
Day 4 & 5 North Komodo (8 dives)
Two celebrated dive sites await you, just north of Gili Lawalaut Island. Crystal Rock and Castle Rock are both incredible locations, boasting the key elements for any impressive dive site: a wide variety of healthy corals covering the reef, plus tons of fish – both big and small and all sizes in between! There are more exhilarating dives in this area, Aquarium, Coral Garden, Gili Lawalaut Lighthouse and a bit more to the northeast Batu Montjo, along with good night dives on healthy hard coral reefs off the island of Gili Lawa Darat. Between the dives there is a chance to visit Gili Lawalaut Island and take a short trek to the top of the hill for a wonderful view over the Komodo-Flores channel.
Crystal Rock
The rock jutting out of the surrounding crystal clear waters explains how this site got its name. But what is truly memorable here are the large schools of fusiliers and anthias flitting over the gorgeous soft corals and impressive table corals. In the deep blue, you can also see at times large tuna, mackerel and other fish schooling around a small mound to the northwest. A lone eagle ray is often spotted here cruising in the currents.
Castle Rock
Castle Rock is a submerged pinnacle situated a kilometre further north from Crystal Rock. Its exposed location means strong currents but experienced divers will love the thrills to be had on this dive. In fact, the main action comes from watching the staggering amount of fish such as batfish, groupers, midnight snappers and impressive schools of fusiliers and surgeons whipping past. Of course, divers aren't the only ones interested in the huge amount of fish here, which explains the giant trevally as well as whitetips, blacktips and grey reef sharks hunting around for their next meal.
Aquarium
This beautiful shallow dive site on the southwest corner of Gili Lawalaut offers a good possibility to see manta rays passing by. Big coral formations surrounded by thousands of glassfish offer amazing wide angle photography opportunities. White tip reef sharks can be found in the sandy bottom area and hawksbill and green turtles can be seen along the calm flower coral reef.
Coral Garden
We start the dive in a white sandy area with stunning coral heads and big barrel sponges. Watch out for leaf scorpionfishes, hairy squat lobsters, morey eels and different types of stingrays. The reef converts into a beautiful hard coral wall where thousands of fusiliers and dozens of trevallies and snappers can be seen.
Batu Montjo
In the northwest of Komodo Island, Batu Montjo is a perfect site to dive as a third dive with a amazing formation of hard corals in the shallows. Many boulders covered with gorgonian sea fans lie in between the white sandy slopes. This combination of hard corals and gorgonian sea fans with all the fish swimming in between the coral garden makes for a perfect relaxing afternoon dive. Leaf fish, mantis shrimp, jaw fish and turtles are often seen at this site.
Gili Lawalaut Lighthouse
On the north of Gili Lawalaut there is a lighthouse at the end of a long reef. When the tide is going down the dive starts on the reef with a drift to the corner. At the corner there are big schools of batfish, snappers, surgeons with napoleon wrasse and reef sharks also hanging around.
Day 6 Komodo-Flores Channel /Sabolan (3 dives)
We will do two more dives in the Komodo channel area and one dive in Sabolan before travelling east to Palu'E.
Sabolan Island. At Sabolan Island we can find big sea fans with pygmies and a resident school of bumphead parrotfish. There is a ridge extending out into the deep, on the way across look for the garden eels in the sandy patches. You may see turtles feeding on the colourful soft corals there. The shallow coral garden is impressive with huge leather corals where there might be cuttlefish hiding out.
Day 7 Palu'e Island (2 dives)
Palu'e is located north of Flores Island and 45 nautical miles from Maumere. It is part of the Lesser Sunda Islands and Rokatenda (Paluweh) volcano is located in the northern region of Palu'e. There is a population of almost 10,000 people in eight mountain villages. There are no roads or vehicles on the island. The volcano erupted in August 2013 and is still smoking today.
Raja River
Raja River is located on the south west of the island. It is a beautiful wall that drops from the depth of 8 metres – 24 ft to about a depth of 30 meters – 90 ft. Along this dramatic and very long wall there are overhangs and cuts with opportunities to see leaf fish, reef octopus, nudibranchs and in particular the juvenile stage of many different kinds of reef fish. We can enjoy also the beauty of the large size of tube sponges, gorgonians sea fans and the black coral bushes along the wall and the hard coral garden in the shallows of the dive site.
Day 8 Bacatan (4 dives)
Next to the north of Kawula Island there is a beautiful, calm bay overlooked by Lewotolo volcano. We spend the day diving here.
Tanjung Bacatan
Tanjung Bacatan is within view of Lembata and Komba volcanoes. Tanjung means corner and the dive site is situated on a point on the north shore of Kawula island. The dive site consists of a wall covered in crevices and ledges covered in soft corals and large sponges with hard coral gardens in the shallows. At one end the wall turns into a white sandy slope hosting many varieties of reef fish and triggerfish. A resident school of barracuda can be seen here as well as turtles and maybe even large trevallies passing by.
Takat Prau
In the middle of the bay there is a seamount we call Takat Prau. There is a small wooden fishing boat wrecked in the deep right next to a sea fan with pygmies. There can be schooling fusiliers here with small reef sharks patrolling the pinnacle. Leaf fish make their home in the shallows and large reef octopus are often spotted hunting in the hard coral.
Padang Pasir
This dive site has two sections. A huge expanse of white sand extends to the south and a mini wall and reef comes out from the corner of the island. In the sandy area look for waspfish, flounders, stingrays and ghost pipefish. On the wall algae shrimp, moray eels, lionfish and beautiful angelfish hide out. At the top of the reef there are healthy staghorn corals where you might spot a mandarin fish. At night the wall and reef come alive with shrimps and crabs and there is a chance you will see Spanish dancer nudis. Or hunt around in the sand for stargazers, bobtail squid and frogfish.
Day 9 Pura Island/Kalabahi Bay (4 dives)
Dives in the Alor/Pantar Strait promise a variety of thrills as the sites present a wide array of exciting possibilities, with topography ranging from dramatic shear drop-offs, spurs jutting out from the shore mingling together with shallow reefs where the light brings out the full colour of the dazzling corals covering all surfaces. The water temperature can be a little cooler in this area dropping from the normal 28/29 degrees Celsius (82-84 Fahrenheit) to a possible 20 Celsius (68 Fahrenheit).
Here you can see the famous Pura Island villagers splash out of their wooden dugout canoes diving underwater with homemade goggles made out of wood and the ends of glass bottles.
During the day we will also look out for large pelagics who use the Pantar Strait as a thoroughfare. If there are any sightings of whales, dolphins or even Mola Mola we may forego a dive and head out in the tenders with snorkelling gear to see if we can have a lucky encounter.
Yan Village
At Yan Village there are several wonderful spots to dive. Walls covered in sponges topped with shallow hard coral reefs where you can spot the elusive Mandarin fish to black sandy slopes where fans of macro will get their fill too. Some examples of the critters here are frogfish, weedy scorpionfish, all sorts of nudibranchs and yellow, blue and black ribbon eels.
Clown Valley
One exceptional dive site on Pura Island is probably the only place in the world where you will see this phenomenon. The entire reef is completely covered in anemones of all shapes and sizes. Enjoy a drift dive along this site and enjoy the abundant fish life, with thousands of colourful anthias and damsels dancing off the reef. Take a look at photos of Clown Valley and other wide-angle opportunities in Alor here.
Kalabahi Bay
Mucky Mosque and Rocky Church are two of the great muck dives we will do inside Kalabahi Bay on Alor Island. The 'holy grail of fish' Rhinopias can be found here, with a chance to see both the weedy and paddleflap scorpionfish. Ghost pipefish, soft coral crabs, frogfish, various octopus including the wunderpus and mimic, snake eels, sea moths, sand divers and many other remarkable creatures The only way you are likely to see stranger is if you do a night dive here when unimaginable ones begin foraging out of their holes.
Day 10 Visit traditional Abui tribe village/Reta Island (2 dives)
In the morning we will visit Takpala or Latevui village, both villages still living by their old Abui traditions. The villagers will perform the Lego-Lego dance wearing traditional clothing with brass anklets that make a wonderful jingling sound as they perform. Afterwards there is an opportunity to purchase handmade ikat, woven fabrics of various colours and motifs, as well as jewellery and wooden artifacts. Take a look at our photo album of these villages at Alor Abui Tribe
After the village tour we will travel out into the Alor/Pantar Strait to Reta Island where we will do two dives before traveling to Kawula Island.
Reta Island
Reta Island and has beautiful vertical walls with overhangs, undercuts and a deep plateau at 25m/75ft. It is full of hard and soft corals, barrel sponges and whip corals. At the top of the wall is a gorgeous coral garden teeming with reef fish.
Day 11 Kawula Island (4 dives)
In the south-west of Kawula Island there is a bay with world class muck diving sites.
Tanjung Waiwowan
This dive site is a mixture of reef and white sandy slope full of amazing critters. Here we have another chance to see the allusive Rhinopias camouflaged in the coral slope. This is a perfect environment for different kinds of ghost pipefish including the very rare Halemeda ghost pipefish. Wunderpus and blue ring octopus were spotted here before. During the night dive juvenile brown-banded bamboo sharks, Helmut flying gurnards and frogfish crawl around the darkened site. A full day can easily be spent here in order to discover all the wonderful creatures.
The Frog and Catfish
So named due to the number of giant frogfish and the huge school of catfish found here the first time we dived this large jetty for the local ferries. The jetty provides an excellent place for giant frogfish to laze around the concrete posts. Rhinopias, mantis shrimps, ghost pipefish, nudis and leaf fish have also been found here. Diving at this site is dependant on the local ferry schedule and permission from the authorities.
Day 12 Pulau Babi (1-2 dives)
Pulau Babi
Pulau Babi literally means 'pig island'. Its north end is bordered by a wide coral reef and faces the Flores Sea. Further south there is a small tidal flat where two villages were built. At the southern end of the island, the barrier reef tapers. It has deep walls with lots of cracks and crevices with leather corals in the shallows. Babi is home to many dive sites. One, called The Crack, was formed during an earthquake in 1992. Located in a reef 20 metres (66 ft) below the water, the 70-centimetre (28 in) crack reaches a length of 30 metres (98 ft).
Day 13 Disembarkation in Maumere
Total dives: 34-35 dives