Sample Itinerary "SELAYAR-TAKA BONERATE-MAUMERE BAY Makassar-Maumere 11 Days-10 Nights"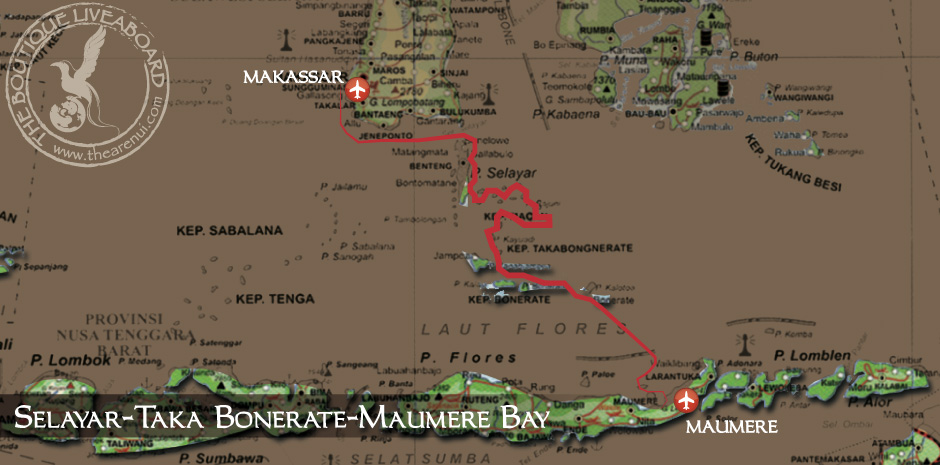 SELAYAR-TAKA BONERATE-MAUMERE BAY
11 Days/10 Nights Makassar-Maumere Cruise Itinerary
As exclusive as it gets; The Arenui cruises this South Sulawesi route only once a year. Our embarkation point is in Makassar which can easily be reached by domestic flight from Jakarta. Our journey from Makassar to Maumere will bring us first via Selayar. This area is blessed with unlimited dive potential as well as pristine white sandy beaches and a relaxing atmosphere; truly wonderful. We can spot tiny pygmy seahorses hiding in delicate sea fans. An abundance of reef fish can be seen here such as fusiliers, snappers, and occasionally tunas, mantas, eagle rays and sharks can be seen passing by. 
We then continue our journey between the 21 islands of Taka Bonerate National Park; the world's third largest atoll. In 2015 the Taka Bonerate National Park was included in the UNESCO World Network of Biosphere Reserves.The atoll consists of separate table reefs enclosing a lagoon filled with massive reefs.
Immaculately clear waters offer a wide range of different types of reefs, from barrier reefs to fringing reefs and atolls to steep drop-offs, as well as slopes and flat seabeds. So many opportunities for us divers to be amazed by the incredible beauty of this underwater world here. Besides the 242 species of corals, Taka Bonerate boasts 526 species of colorful and unusual reef fish as well as 112 species of macroalgae.
Here we have very good chances of getting up close with turtles, mantas, dolphins, turtles, sharks and even sperm whales! We will glide past majestic giant gorgonian fans and black corals. This unspoilt underwater paradise brings us an immense variety of sealife including scorpion fish, tuna, nudis, napoleon wrasse, as well as hawksbill, green and Pacific Ridley turtles. Taka Bonerate is home to areas of the world's highest marine diversity. With over 50 amazing dive sites, the park is absolute heaven on Earth for divers.
Day 1 Embarkation in Makassar
Day 2 – Sarontang/Pulau Kambing (3-4 dives)
Sarontang/Pulau Kambing (meaning Goat Island) lies in the strait between Selayar island and Bira. Wonderous sharky waters and incredible wall dives. As well as colorful coral gardens and hunting grounds of mackerels, tunas and giant trevallies. Giant bumphead parrotfish can be seen here in groups cruising by. On the same dive you might spot illusive scorpionfishes, cuttlefish or perhaps an octopus and if we're lucky a beautiful orange and black juvenile zebra batfish.
Main Dive Sites: Coral Garden, Eagle's Rock, The Cave, The Great Wall of Goats
DAY 3 – Central Selayar – Tanjung Tampu  (4 dives)
Exploratory diving around Tanjung Tampu.
DAY 4 – Central Selayar – Tanjung Cumi  (4 dives)
Opera Wall
This is a stunning wall with huge black coral formations in the deeper sections. The dive can be dived both deep and shallow and all depth levels offer beautiful macro opportunities. We usually aim to swim a little along the wall which enables us to cross over the top of our Shark Point site – here we swim through a 'fish soup' of schooling bannerfish and snappers, huge barracuda are often resting here and large marble rays are not uncommon. We finish the dive along the reef top where there are usually too many turtles to count, sea snakes and for those looking for smaller critters, leaf fish, orang-utan crabs, shrimps, velutinids and nudibranch are all residing here!
Shark Point
This site is a 10 minute boat ride from the resort and starts as a deep wall which bottoms out to a sandy slope at around 30 meters. We start the dive along the wall which is covered with gorgonians, black corals and colourful sponges. Before dropping down to the slope we swim through schools of snappers, jacks and schooling bannerfish – a resident great barracuda is also known to hang in the shallows here too! Once on the slope we follow the reef down to around 40 meters where both white tip and grey reef sharks are frequently patrolling the reef and the blue. This is also an ideal spot for seeing large marble rays, tuna and napoleons as well as eagle rays passing overhead. On days when the larger predators are not present this site still offers fantastic diversity and numerous turtles can be seen on every dive here as well as leaf fish, sea snakes, huge giant trevallies and small schools of barracudas. The reef top at the end of the dive offers beautiful corals and this is often where we find interesting critters including various shrimps, orang-utan crabs, giant clams and blue spotted stingrays.
Canyon
Here we often see schools of bat fish and on the deep sand bottom we sometimes see sharks passing back and forth. Stingrays are not uncommon here and it is not unusual to see an eagle ray swooping by overhead or in the blue. This is a beautiful dive site, best dived when the currents are running a little stronger.
Outside
The Outside dive site starts as a sandy slope which we usually drift along in the current – here we hope to see large napoleons, schools of bat fish and occasionally large rays. The slope soon becomes a stunning vertical wall which is pocked with ledges, caverns and interesting formations. Along the wall look out for nudibranch, shrimps, beautiful anemones and some large sweetlips as well as sea snakes and long-nose hawkfish amongst the soft corals.
DAY 5/6 – South Selayar (8 dives)
Unspunnenstein
A Swiss dive site name. This site is a steeply sloping reef and wall with alcoves and cracks in which many reef fish can be found. Here we should be on the lookout in the patches of Halimeda algae for the (you've guessed it!) halimeda ghost pipefish along with flatworms, shrimps and nudis.
Doda
Similar topography to Unspunnenstein with a deep sloping reef and wall. Tons of soft corals, gorgonians and sponges, colorful and abundant. Here we find an especially beautiful reef flat here with many staghorn corals, habitat of wrasse, harlequin sweetlips fish and other colorful species of reef fish. Look out for ghost pipefish, shrimp, leaf fish, turtles and crabs species. Some banded seasnakes may also meet us there.
Apatana Höhle
Heading in a southerly direction we head towards 'the hole'. Along this slope of sand and coral we can expect to find schooling of fusiliers and batfish; lionfish, garden eels, blue spotted stingrays, razor fish and anemone shrimp along with an abundance of reef fish. Reaching the hole of an impressive overhang with a 130ft/40m maximum depth. Perhaps we'll see some bumphead parrotfish cruising bay too.
Little Wall
Be ready for some impressive gorgonian seafans of many colors and kinds. Scanning these fans we can find illusive pygmy seahorses. Check out the anemones for orangutan crabs and look around for blue spotted stingrays and bumphead parrotfish.
DAY 7/9 – Taka Bonerate (11-12 dives)
Takabonerate is a marine park located in the Flores Sea, South Sulawesi.These islands are the habitat of a huge variety of sea life and bird species and are hardly visited by tourists. No phone or internet signal means we switch off from everyday life and engage with nature, from your luxurious abode; The Arenui vessel. 
An incredible variety of wall and garden reef dives are to be explored. There is practically no current on most dives and so those who like to relax and enjoy the view without treading the current, are going to me more than comfortable. The rangers do their jobs well keeping the reefs pristine. The underwater features are amazing, almost as if diving in an aquarium. The beached on the surrounding islands are beautiful, white soft sand. The scenery is truly wonderful. Heaven on earth.
Visibility on average is great. What life can we see here?… this place is a haven for baby sharks that swim in the shallows around the colorful and clean coral reefs. We can see other pretty reef creatures such as, butterfly fish, cardinal fish, angelfish, grouper, surgeon fish, damselfish, batfish trevallies, snapper, fusiliers, sweetlips, wrasse, parrot fish, trigger fish, bumphead fish, scorpion fish, lobster, eagle rays, nudibrands, crocodile fish, moray eels, schooling mackerel, and bigger predator fishes like barracuda, tuna and adult sharks
Main Dive Sites: Jinato Wall Paradise, Small Totoke Spot, Bajang Pogo, Huntu Ceria, Uka, Pinky Fish, Taka Mallori, Ibel Orange, Corina Corner, Pasitallu Raja, Kolam Ganterang.
DAY 10 – Maumere Bay (3 dives)
Maumere Bay is an extensive, beautiful bay surrounded by volcanoes and gentle hills and rimmed by islands. Maumere Bay encompasses the whole area around Maumere town, all the way to the East until Tanjung Darat and including the islands of Besar, Dambilah, Pangabatang, Babi and Pamana.
Pulau Babi', translating to 'pig island' to the northern part, is bordered by a thick coral reef. Toward the south there is a small tidal flat and at the southern end of the island, the barrier reef tapers. It has deep walls with lots of cracks and crevices with leather corals in the shallows. Babi is home to many dive sites, including the famous 'crack'.
Mandarin Patch
Can you guess what we find here? That's right, the illusive and beautiful mandarin fish during dusk. This is a small reef on a gentle slope with many sponges and corals that are home to many creatures such as shrimps, trigger fishes, cuttlefish, eels, lobsters, and nudis. Be on the look out for stonefishes, ribbon eels and even  ghost pipefish.
Zubinarius (one for the critter divers!!)
A not long known site that was found to be home to shaggy frogfishes (Antennarius hispidus). It is a true muck site with sand and mud. Aside from frogfishes there are also a lot of other critters like large seahorses, octopuses, nudibranchs, small pipefishes, coconut crabs, sea cucumbers and slugs.
The Crack
This 'crack' was formed during an earthquake in 1992. Located in a reef 20 meters (66 ft) below the water, the 70-centimetre (28 in) crack reaches a length of 30 meters (98 ft).
Corals grow in it and a lot of reef fish live here. We then dive along a steep wall, full with coral growth, mostly hard corals, large sea fans and reef fish.  Look out into the blue for sharks and rays as well as up close to the reef for smaller life like nudibranchs, leaf scorpionfishes, eels and morays, octopus, lobsters and frogfish…
DAY 11 – Disembarkation in Maumere
Total dives: 33-35